Most Common WordPress Security Mistakes and how to fix it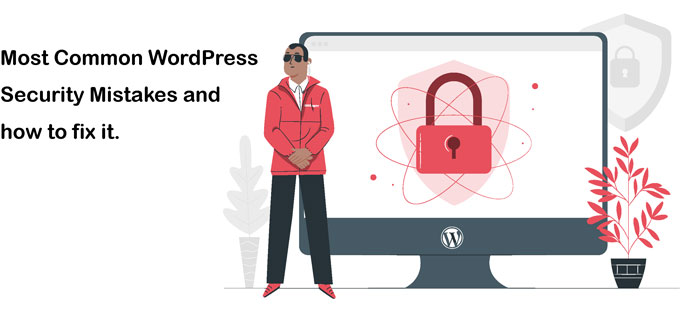 WordPress is the most popular content management system in the world. It is fast and easy to setup. So most of the developers used WordPress to develop their website but also maintaining a WordPress site comes with a number of markable points, which are difficult to navigate. The case is worse for brand spanking new site-owners, since committing a little WordPress security mistakes might build their website offline, or build it vulnerable to hackers' attacks.
So its focus to knowing the common WordPress security mistakes and fix them is the key to keep your WordPress site safer.
Here's a list of some of the most common WordPress security mistakes
Unsuitable Hosting
 Most of the websites hack because of the use of insecure servers. To ensure your site is safe and secure from any hacks, you need to ensure that your website hosting is secure. To ensure that you just decide a hosting supplier that supports WordPress and has all the required tools to assist you with installation, security, and updates. For more detail, you can see 14 Most Popular Web Hosting Services of 2018.
Not updating WordPress and its add-ons
If you have been working with WordPress, you will be aware that the platform is regularly updated. Ignoring a WordPress update can result in a security vulnerability and make hackers' lives easier as well.
Using Insecure Login Information
There are a number of simple login mistakes that WordPress site owners make, like easy guess credentials like use their birth date, family member names as the password for login make site hacked. it easily gets because They also link their website to their public Facebook profile. Also, hacker uses automated scripts that can perform this action repeatedly in a shorter amount of time than any human ever could. To be safe, you must modify the default admin user and if you can't come back up with a strong password, use an online strong password generator which will produce a unique password for you.
Malicious plugins and themes
In WordPress, many developers spend their time to develop free plugins and themes and that also available free of cost. You should be very careful when to use these plugins or themes because they may come with malicious files and JavaScript that could cripple your website and grant your site's access to hackers. Only install plugins and themes from trusted sources with certificates.
Not reliable backup solution
A backup solution is best of WordPress security whenever your site gets hacked and posts get deleted, you can easily restore your site back to normal using the backups but many backup services are not efficient because they store their backups in your server or one place. It's not an ideal place to store the backup. Before choosing a backup service, check all functionality and features to see where they store backups.
Not Using a Security Service
In today's world, hacker attacks a website by sending a spam mail. so be aware of this use standard security service which offers security features like Firewall that helps prevent hackers from brute-forcing into your site also you can use WordPress security plugins to keep your website safe. You can also find this plugin here Top 22 must have Plugins in your WordPress website.
 I hope this post is helpful to your website. By avoiding the mistakes, you'll offer your website the most effective probabilities to remain unaffected by security considerations. If you have any questions regarding these WordPress security mistakes and their fixes. Kindly get in touch with us through contact us.