12 Ways to improve a Product Landing Page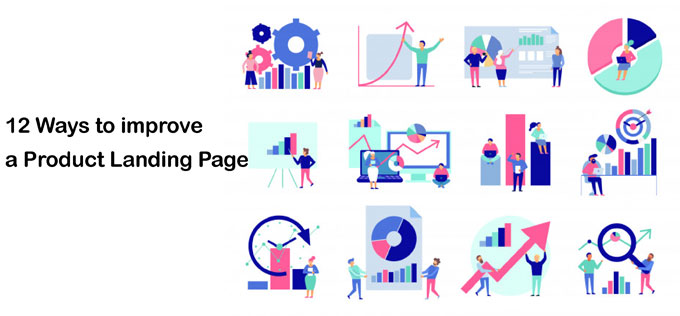 In the eCommerce site, the Conversion rate is important thing. So as a store owner, you should constantly optimize your conversion rates and most importantly profits .So here we discuss 12 Ways to improve a Product Landing Page and optimize conversion rates.
Feature High Quality, Dynamic Product Images Of Every Product
Use large, high-quality product images with multiple angle shots because product image is really important thing for your e-commerce conversion rates.
Give product description and Offer Benefits
Represent proper product description to build customer trust. So the customer knows very well that what they want or what they buy and making the sale of the product easier and faster.
Allow a Product Zoom Feature
Allow user to see closer product image. So they are sure about the detail of product when they cannot hold the product whenever it is online. So make sure that user can allow the zoom in or zoom out on your product and see the product properly.
Size information of the product in product landing page
Make sure you can place Size information of product alongside the product and affects your conversion rate.
Related Product Recommendations
Recommending related products is way to increase conversion rate. So make sure related product functionality properly work on single product page.
Don't hide out of stock products
Make sure you can set "out of stock" statuses at product page with notify option because when products are back in stock it will notify user via email to return to shop and checkout.
Use Wish Lists to Drive Traffic and Increase Sales
Wishlists allow a user to take a product they liked but don't buy at the time also you can connect it with social media so that it helps to create a traffic as people like to buy things that their friends recommend.
Increase trust and conversions with user-submitted reviews
Most of the customers buying a product by seeing the customer review. They trust online reviews as much as personal recommendations. So make sure that your reviews are added alongside your products so that the visitor does not have to leave your page going to look for reviews around the web.
Adding a privacy policy link to build a trust
Customer trust is important thing of your eCommerce site because without it they don't sign up with your site or shopping your product. To build trust by adding privacy policy link which helps to boost conversions rate.
Use Live Chat Transcripts
Use and analyze your live chat transcript for product information gaps and add the missing information in-line alongside your products on the landing page.
Communicate Shipping on All Pages Clearly
It's important to show up shipping costs on every page and where possible to offer free shipping.
Show the expected delivery date on the product landing page and cart page
Most of the customer doesn't want to wait long for their product. Add delivery dates alongside your products or offer guaranteed delivery dates to make good sales.
I hope this post is useful for your E-commerce site. If you know more about 9 simple ways to Manage Bounce Rate of your eCommerce site or Tips to keep secure your WooCommerce wordpress website feel free to connect with us or If you know another way to improve a Product Landing Page let us know in the comments!