Top 22 must have Plugins in your WordPress website.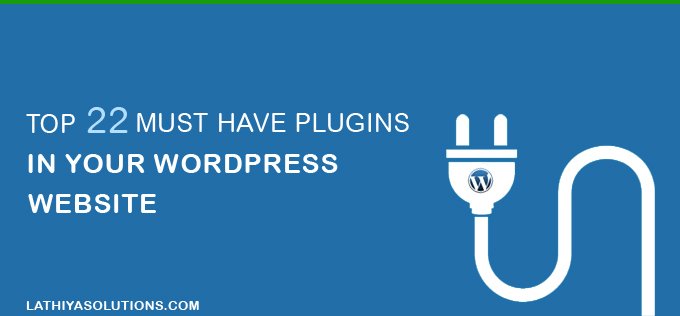 WordPress plugins are great tools for adding and extending functionality to WordPress. Some of the WordPress plugins are so widely used that they have millions of downloads. In this post, I will discuss top 22 must have Plugins in your WordPress website.
These plugins will add incredible functionality to your site and make it 'Powerful'.
Database and File Backup Plugins
BackUpWordPress will save your complete installation. It's back up your entire site including your database and all your files on a schedule that suits you.
Search Engine Optimization (SEO)
Yoast is one of the most popular and reliable WP SEO tools. Most websites will see results using the free version of this plugin.
Very versatile and effective. It's interface is not as user-friendly as Yoast, especially for beginners but the feature is Incredible.
This plugin will create a sitemap for you and better yet, update it when you make adds or deletions to your site.
Blog Security Plugin
The All In One WordPress Security and Firewall is the ultimate security plugin that will take your WordPress site's security to a whole new level.
The Wordfence WordPress security plugin provides free enterprise class WordPress security.
Blog Statistics Related
Displays Google Analytics reports in your WordPress Dashboard. Insert the latest Google Analytics tracking code in your pages.
Enables Google Analytics on all pages. This one seems to be simple and does the job. However, the developer doesn't seem to be very responsive.
A comprehensive plugin for your WordPress visitor statistics (doesn't use Google Analytics).
Caching Plugin
The fastest and most complete WordPress performance optimization plugin. After you use the w3 total cache plugin you won't go back to using WP Super Cache.
WP Super Cache is a static caching plugin for WordPress. It generates html files. That generated HTML files is served by your web server instead of processing the comparatively heavier and more expensive WordPress PHP scripts. This plugin will speed up your WordPress blog significantly.
Contact Forms Related
The most popular and free contact form plugin for WordPress. It can manage multiple contact forms, plus you can customize the form very easily.
Social Networking
This Social media plugin which adds social media icons to your website with tons of customization features
This is a very useful plugin that allows your audience to spread your content around the web.
E-commerce, Paypal Donation, and Payment
This is very easy to use a WordPress plugin to Accept donation or Paypal payment for a service or a product in one click. Handy when you are trying to put a customized payment widget on your site (you can add it to the sidebar or a page or a post of your blog).
This plugin is very useful for selling digital products securely from your WordPress blog.
A simple and lightweight plugin to accept payment on your site (for a product or service) via the Stripe payment gateway.
Membership Plugin
The simple membership plugin lets you protect your posts and pages so only your members (free or paid) can view the protected content.
Other Very Useful Plugins
This plugin gives you a list of posts and/or pages related to the current entry, introducing the reader to other relevant content on your site.
MailPoet has a fully featured plugin. It Sends newsletters, post notifications or autoresponders from WordPress easily.
This plugin will automatically optimize images that are uploaded in your blog.
The WordPress Video Lightbox plugin allows you to embed videos on a page using the lightbox overlay display. It used to display YouTube, Vimeo, iFrame, images, flash etc in a lightbox overlay.
All are the best WordPress plugins that you can apply for WordPress Development Company India. As mention above, these 22 plugins have a great feature which makes your website look awesome.
If you are already using them, write your feedback in the comment box below.
Did I miss any plugin that you think is essential too? I would appreciate it if you suggest to me any.