Top 10 SEO mistakes on WordPress sites & How to fix them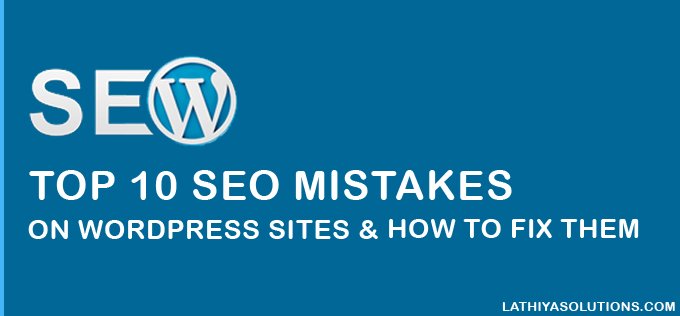 WordPress is widely used CMS platform to build a website.
WordPress now powers more than 30 % of the web, according to Web technology survey firm W3Techs
If you want to build a website and grow traffic using SEO, WordPress is a great way to go! So, if you're thinking about building a website with SEO in mind from the start, you probably want to go with WordPress.
But that doesn't mean it will be easy.
SEO is not only aimed at making your website more visible to people, its objective also includes making the visitor have a seamless and streamlined experience towards the conversion.
Below are the top 10 SEO mistakes on WordPress site that not only stops your website from ranking to its full potential but also prevents your visitors from taking action on your offers. See these top 10 SEO mistakes on WordPress sites and how to fix them.
1. Not Owning Your Own Domain
If you are serious about your website you will get your own name and host it yourself. Free blog setups do not do any favors for your SEO efforts.
That means your blog is not an address that looks like this: myblogname.wordpress.com.Using .blogspot and .wordpress is a great way to start and test out whether blogging is for you, to determine if you are willing to put in the time and effort to blog consistently. But if you want to take blogging really seriously you need to own your domain!
If still, you have confusion with web hosting then take help of Web Hosting service provider
2. Trying to rank for the wrong keywords
Make sure that you're using the right keywords for every page. The longer and more specific the keywords are, the higher your chances of ranking for this keyword.
Try to focus on Long Tail Keyword, because it will increase your conversion rate highly.
3. Not Optimising Your Title Tag & Meta Description
A good page title is your bread-and-butter when it comes to SEO, it's one of the first things search engines see when visiting your post. Also, try to close your keywords to the beginning of the title as possible.
Try to keep your title under 66 characters total, so that it doesn't get cropped by search engines as this can cause fewer people to click on your post in Google.
A Meta description is the additional text that appears in SERPs, letting readers knows what the link is about. Your meta description should include the long-tail keyword you are trying to rank for because it will then become bold when people search for it and lead to more clicks to your blog post.
4. Neglecting to write awesome content
It's important to make sure every page of your site has decent content and also at least 300 or 350 words in content. You can't expect Google to see you as an expert on a certain topic when you have only written two sentences about it.
You must avoid duplicate content with other sites and be writing original content.
5. You Haven't Submitted XML Sitemap
It's hard to believe that bloggers can ignore something as critical as XML sitemaps, and yet there are people who make this mistake.
With an XML sitemap, you inform Google about the pages and posts you want to be indexed. A sitemap provides information on the frequency of updating and the relation of a URL with respect to other URLs. Sitemaps boost a site's ranking in the SERPs. Sitemaps are easy to configure.
6. Not Using Internal Links To Your Other Blog Posts
Inbound links to your content help show search engines the validity or relevancy of your content. If you've written about a topic that's mentioned in your blog post on another blog post, it's a best practice to link to that page.
7. You Don't Set Goals in Google Analytics
Suppose you gain more traffic in a month, but if those visitors don't buy your products, or don't perform actions that make you money, you're going to be in trouble.
To measure how many people landed on those pages as well as how many of those visitors came from organic search you can use Google Analytics.
8. Disregarding Website Load Speed
A slow loading website is one of the many reasons why visitors leave a website. In today's fast-paced generation, speed is everything.
The most famous speed-improving WP plugins include W3 Total Cache and Imagify Image Optimizer.W3 Total Cache improves your website speed primarily by minifying your site's HTML, CSS, and JavaScript codes.
If you know how your website is doing in terms of site speed? You can use tools like Google PageSpeed Insights, Pingdom, and  GTmetrix. Aside from showing you how fast your website loads, it also provides thorough recommendations on how to improve it.
9. Installing Yoast SEO and Just forgetting about it
The Yoast SEO plugin creates a content analysis tool on each of your posts and helps you create an SEO-friendly blog post each and every time. If you write a relatively SEO-friendly blog post it will indicate this with a green bullet. Writing pages with green bullets will help you improve the chances of ranking the blog post.
10. You Don't Check for Broken Links
Avoid pointing visitors towards any pages that are showing 400 or 500 errors and also make sure that all links to stay updated, To automate this process go to Check Your Broken Links.
If you can review this common mistake, make sure you avoid these common issues and well on the way to grow your organic traffic.
We know that SEO can often be confusing, if you have any questions please feel free to ask them in the comments.