8 Useful Google Tools to Improve Your Website Performance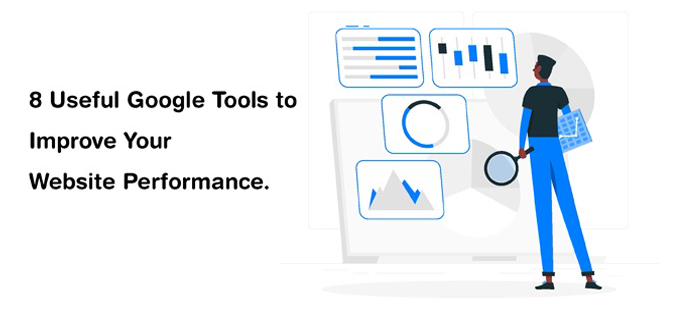 Google has expected you to create a great, beautiful and attractive website which easily attract the user and make a great user experience. If you are SEO novice and want your website great, beautiful and mobile friendly than Google has offered multiple tools and services that you can use as per your business requirement.
Here We have the best Google Tools to Improve Your Website Performance.
GOOGLE WEBMASTER TOOLS
Google Webmaster Tools give you the performance of website also it can generate a report. Report contains your website performance, broken link, bugs, malware issue and indexing status. Google webmaster also allows you to submit a sitemap to Google and also give information of common keywords used in your web pages, after Google has crawl your site. This keyword helps you to rank a page higher on Google.
GOOGLE ANALYTICS
Google Analytics is an essential tool for every website. This service offered by Google which will tracks and reports your website traffic. It gives information like the number of visitors, search results visitors, their traffic sources, and conversion rate and times that visitors spending on your webpage. You can add Google Analytics code in your website easily. Sign up a Google analytics with Google account and add your website to it. Once you generate the code, you can insert it into your WordPress site header or footer in your current theme.
GOOGLE PAGESPEED INSIGHTS
In Google PageSpeed Insight, Enter a website URL, it will test your website and give you page loading time and performance for desktop and mobile. It also gives a scope to improve your website.
GOOGLE KEYWORD PLANNER
You can use Google Keyword Planner by the sign in to your Google account. You can find here new keyword ideas based on your product, services, and target customer.
GOOGLE TRENDS
Google Trends is useful to identify the latest trends or viral news in your location. It's real time information, so it's beneficial for marketers or journalist.
GOOGLE SEARCH CONSOLE
Google Search Console is a free web service designed for webmasters. It allows you to check the indexing status and optimize the visibility of your websites.
GOOGLE TAG MANAGER
Google Tag Manager free tool helps you update tags and code snippets on your website and the mobile app quickly and easily. It replaces tags for other Google tools, so you no longer have to manually insert tags.
GOOGLE ALERT
Google Alerts can give alerts or notify you the latest news or related information of your chosen search keyword in Google search by email. It's can be notified you every time when your keywords have new updates.
So above are 8 Useful Google Tools to Improve Your Website, other tools are Google Fonts, Google Optimize, and Google Data Studio and many more. Have we missed out on an important Google tool? If yes, then do comment below!
Read more articles like this...
Simple Tricks to Boost your Website Page Loading Speed
Image Optimization in Advance Web development