Why Browser Compatibility is Important for your website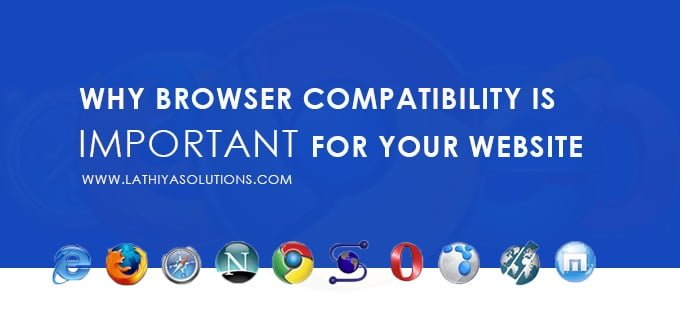 All web designer deal with this web browser compatibility issue because it's not an easy task. Well, creating a website which is compatible for all browsers it's very important to website designer because different browser reads your web page differently.
What is Browser Compatibility?
Your web page looks in different web browsers. Different browsers read your web page differently. In other words, Chrome renders a website differently than Firefox or Internet Explorer does. All people do not use the same browser so it is important to ensure that your website is compatible across different browsers.
Below are a few of the most popular internet browsers:
Internet Explorer
Firefox
Chrome
Safari
Opera
Check these factors during the browser compatibility test:
- Website Accessibility in different browser versions
- Speed of the site during low and high traffic levels
- Search Engine Optimization
- Make sure all links are unbroken
- Make sure there are no error in the function
- Make sure E-commerce and shopping cart functionality work properly
- Appearance of the design layout, including text, fonts and images, in different screen size combinations
Mobile Compatibility
In today's world, Mobile technology is increase so most of people surf websites on mobile. To keep up with this trend, you need to make sure your website is mobile compatible. Responsive web design also Increased Conversion Rates. You can also see How Responsive Website can Increase Traffic and Conversion.
When creating a website, developers will use conditional statements within the coding to ensure a site detects which browser is being used and adapts the content accordingly. Make sure that never occur any issue in about browser compatibility, so choose the best web designer who offers this service as standard.
Why Importance of Browser Compatibility
If your site is not work properly or their functionality going on wrong way then Visitors are some less time to stay on your web page or do some activity on it. So make sure your browser compatibility work good because it creates an issues like bad navigation, inaccessibility, slow loading pages, site errors and all major reasons for potential clients to leave the site.
There are multiple tools available on the internet that helps to check the compatibility of website. Responsive web design never effect on your browser compatibility. Be sure to always hire experienced developer and knowledgeable Web Design Company who will build your website to its best potential.