7 Reasons Why you should Choose WordPress for Your Website?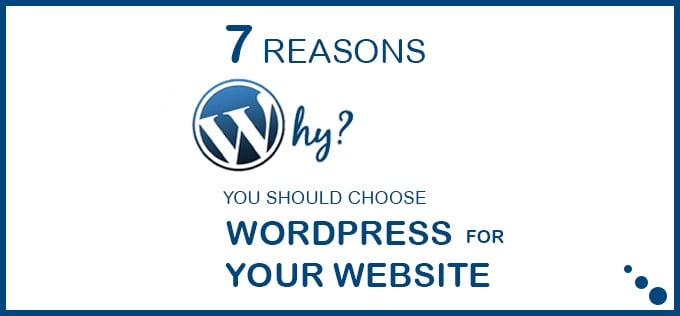 WordPress is an open source platform. WordPress is a content management system (CMS), which means it's designed to help you organize and display the content on your site. It has thousands of available themes and plugins that you can use to change the look of your website and add functionality.
Here are the 7 Reasons to Choose WordPress for Your Website
1. WordPress is free
WordPress is open-source. It means the original source code is freely available for personal and commercial use, and you can redistribute it or modify it however you see fit. WordPress comes with a built-in support that can handle images, audios, and even video contents.
2. WordPress is Ready for Responsive Development
Responsive Development means that design work in all devices. You know How Responsive website helps to Increase your Traffic and Conversion. Having a responsive design helps a great deal in appearing in search engine results and garnering qualified traffic, Since WordPress allow you to build custom themes and plugins, so your enterprise website will sport no matter skin you would like it to. This suggests you don't ought to pay thousands developing a responsive website.
3. Search Engine Friendly
WordPress is designed to be SEO friendly since you can download WordPress to enhance this function and improve your domain's optimization and there is a range of plugins that make SEO easy.
4. Built-In Blogging
WordPress became popular as a blog site. If blogging is part of your business site then WordPress' built-in blog compatibility is perfect.
5. User friendly
WordPress has a flexible framework. In a few clicks you can allow to edit the codes and modify the layouts and applications. We can even customise existing themes as a result of we have a tendency to be well-equipped within the language of programming.
6. Security Access
WordPress is largest website-building platform in the world. It provides many security plugins and themes so, you can choose whether you want your plugins to update automatically or whether you'll handle those updates yourself.
7. Plugins and Themes
WordPress's code is open source, there are thousands of free and paid themes and top plugins to make your site look the way you want it to. Also you can customize your themes and plugins as per your requirements easily.
WordPress is open source and best CMS platform to host your website. It's secure, flexible, user friendly and provides many features to make your business site unique and beautiful. If you want open-source flexibility and a robust community behind you, WordPress is a fantastic choice for your next enterprise website.
Have more questions about How to choose best CMS for your website or how to install and use WordPress? Keep in touch with us. We have an experienced WordPress Developer who can happy to hear your business need and help to create beautiful, robust and unique design site to represent your business.