How to choose best CMS for eCommerce website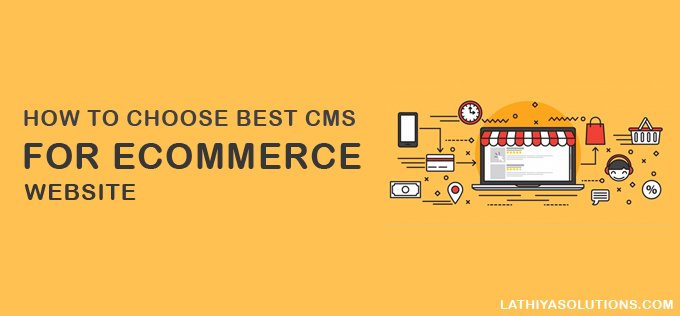 When you make the decision of leaping into the online world to sell your products and services on the Internet, thousands of doubts arise. Most likely, you will wonder about which Content Management System (CMS) you should use to set up your online store with the best eCommerce cms.
There are many eCommerce solutions with CMS features, but the main thing knows which elements you should take into account to differentiate between them and choose the one that best suits your needs and those of your eCommerce business.
The Necessity of a Content Management System (CMS):
User Experience:
this includes such aspects as simple, clear navigation and the website page load speed.
Product page:
showing several images with the possibility of zooming in, cross-sale and recommended products, viewing from all devices, product comparisons, etc.
Payment processes:
integration of different payment methods (PayPal, transfer, card, etc.), as well as a simple, quick payment process that users can trust.
Automated processes and functions:
e.g. invoice generation, stock control (possibility of connecting to ERP), order monitoring and management, etc.
Some of the main features that a best eCommerce CMS should offer are:
- Product views
- Payment and delivery management
- Catalog management
- Multilanguage option
Also, you should take care of Search Engine Optimization (SEO), where URL options, Meta tags, the sitemap, and etc. play a central role.
There are many compelling reasons to use a CMS for eCommerce website:
- It Provides a multitude of themes, add-ons, and plugins.
- It allows the addition and modification of features in accordance with the business demand along with customization that is unique to its brand.
- The CMS has no limit for the addition of products or categories in an e-commerce store. For this, merchants can handle larger e-stores.
Here are some of the best eCommerce CMS that make the right choice for creating powerful online stores:
WordPress is currently the world's favorite CMS. It is a good choice for blogs and corporate websites and offers good extensibility beyond blogging with pages and plugins. Free WordPress plugin help to boost your website performance.
WooCommerce:

It is a WordPress plugin, available for free. This can be used to build e-stores on the WordPress platform.
This CMS solution offers hosted storefronts with bundles of themes, extensions, and an active developers' community. it comes with an appreciable level of customization and functionality.
This is a popular eCommerce platform with hosting services, a range of themes and apps, and integration with popular business management and marketing services.
Joomla is the most popular CMS used to create websites and powerful online applications. It is an open-source solution with several useful features such as a single click installation, ease of use, extensibility, and so forth. It could be moved into virtually unlimited directions.
If you aren't using a CMS to manage your website content, making the switch will certainly save you time and money.  If you still stuck with the choice of e-commerce CMS for your online venture or any related e-commerce issues, Lathiya Solutions is here to help you.
Lathiya Solutions is a well-renowned eCommerce website development company in Surat, providing the best services for regional and global clients. We are a team of expert developers who can help you to choose the right CMS platform to create a visually appealing and functionally robust e-commerce store to represent your business online.