Top 10 Mistakes Businesses Make Online: Social Media Presence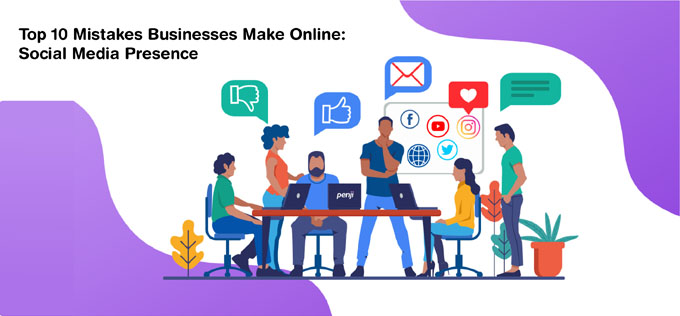 What is a social media presence?
Have you ever heard about what is social media Presence? But you must have heard about Social Media. Because you use social media such as Facebook, Twitter, Instagram in your everyday life. Have you ever thought that marketing can also be done with the help of all these social media? Yes, friends can also do a lot of marketing with the use of all these. Marketing means that to tell people about your brand and to tell people these things, such places are needed where people always come to know and in such a situation, there is hardly a better place than Social Media for advertisers and meet.
Nowadays social media marketing has become a very powerful way for any business. If you use social media properly, then you too can achieve remarkable success in your business and your sales, brand value and authority can all increase.
Yes, friends, all of you can promote your blogs in the same way as other existing companies. With good engagement with your readers, you can increase the brand value of your blog. This is because Social Media is giving you this opportunity to interact more with your readers so that you can identify their needs and try to solve them. That's why I thought why should you be given information about Social Media Marketing and how we can use it so that you too can use it right in your Blogs. Then what is the delay, let's start and know what social media marketing is.
What Is Social Media Marketing?
As we know that from social media websites marketers use many such strategies to promote their content. Because the Internet's audience is more segmented, it is easier for companies to target their resources to their designated audience in a focussed manner.
1. What is Facebook Instant Articles
2. What is Google Adsense InArticle and InFeed Native Ads
3. What is high-quality content and how to write
Therefore, these social media strategy should be used in such a way that it attracts more attention of the user's. By which they may take some action such as buying a product or sharing content. Therefore, if social media marketing was used in the right way, then any company can sell its products very quickly and in a good way and increase its brand value.
Best Social Media Marketing Tips
Are you ready for Social Media Marketing? So let us know some great tips that will be of great use to you later.
1. Social Media Content Planning
Like I said earlier, the need for a Social Media Content Planning is very important. Like Keyword Research and Competitive Research, we will get many such ideas that will be very much liked by our audience.
2. Great Social Content
Like other aspects of online marketing, social media has the highest demand for your content. So always note that you have to use better images, videos, info-graphics with good content continuously, which will make your content even more attractive.
3. Consistent Brand Image
With the help of social media, you can spread your brand image around. But the thing to note here is that you have to always be connected with the unique image of your brand so that people will trust you.
4. Sharing Curated Links
Using social media for your marketing is a very good thing. So that many followers will come to you slowly. If you feel that your followers will like some good information links, then obviously you must share their links. It may be that in return they also share your posts.
Top 5 Mistakes Businesses Make Online: Social Media Presence is given below :
1. Not committing to social media long term
Many of the businesses start there business website and make accounts on all the social media platforms. but they are not consistently posting content to there social media accounts and due to this all their presence in social media will be lost.
2. If you build it they will come
If you have good content on your social media platform and you are regularly or consistently publishing then the chances of the growth of your social media presence will be more day by day.
3. Too much automation
If you do an auto post for your social media posts then this will destroy your social media presence from all the platforms.due to automation there will be more chances that no one likes your posts and it will not be ranked on the internet.
4. Post Overload!
If you post daily 10 to 20 posts on your social media platforms then it will describe that you are not much unique to make your social media presence viral.
You have to be posted at least 1 in a day to make presence among all peoples which are searching your stuff.if you providing more and more content which they don't need then it will destroy your brand's image.
5. No Lead Generation Strategy
No lead generation strategy is also one of the main Mistakes Businesses Make Online: Social Media Presence.
I hope you like this article and get some of the information from it.