Website SEO Checklist for New WordPress Online Store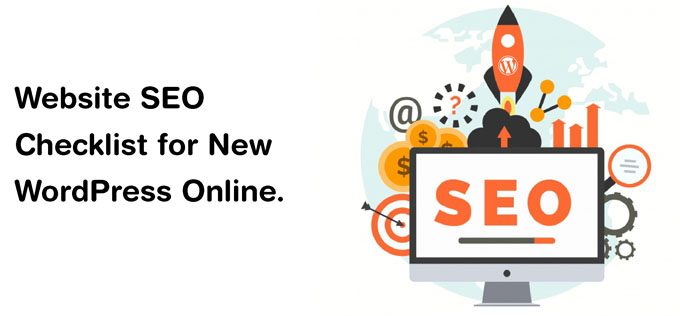 Search engine optimization (SEO) is critical for any new WordPress online store. the reason is very simple if your website shows top on the searches more customers come to your website. So, let's get some website SEO checklist.
1. Opt for an SEO Friendly Theme
Now to maximize SEO functionality, make sure that the WordPress theme you are using for your WordPress online store is also built with SEO.
SEO friendly theme helps to make your website more responsive and helps your website's ranking.
2. Make Use of Plug-ins
Uses of plug-ins on your website are very important without plugins your website is like an apple without seeds so you have to download some useful plugins in your WordPress online store.
SEO plugins are also available in the plugin libraries using that your website will automatically be started ranking in Google or any other search engines.
3. Avoid using a long URL
It is good practice to enable WordPress permalink to ensure that your website visitors, as well as various search engines, can easily understand your URL. By enabling Permalink, you can use more descriptive keywords in your URLs rather than long confusing product IDs.
4. Write Your Product Descriptions and Meta Descriptions
Your product description and meta descriptions help your ranking in Google because some of the WordPress online stores just copy from the other WordPress online stores so it has no meaning at all to rank.
If you are using your product description and meta description then it will help you in the ranking.
5. Ensure that your website is easy to navigate
When you are browsing the wide range of interesting products of your WordPress online store, you do not want to try the patience of your website visitors. Therefore, make sure that the navigation of your website is smooth.
Many times a low bounce rate means a high position in search results.
However, if you do not pay attention to SEO, you will not be able to boost your revenue. This can be a complex subject, but there are still some practical steps you can take to increase your website's ranking in search results.
I hope after reading this article you will get all the information about the Website SEO checklist for your online store and many more things related to that.if you have any query or you want to do your website SEO then our company is ready to do your website's SEO. Lathiya solutions a web development company have a great team of SEO having 9+ years of experience in the field of SEO so if you want to do you any kind of work regarding WordPress development, SEO, WordPress plugin's, etc.