8 Effective Ways to Get More Email Subscribers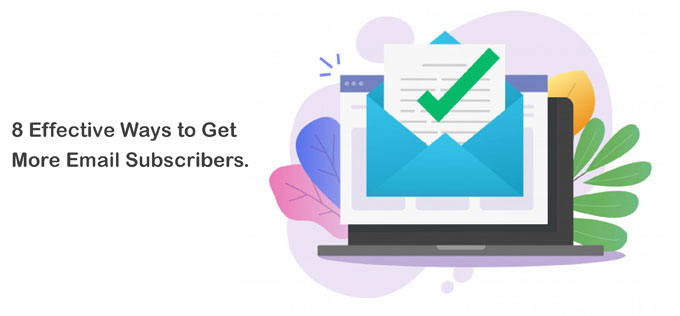 Email subscribers or email list is important tools for your business. It allows you to connect with your customers on a regular basis and also easily promote your product and services.
So here we discuss the key point which attracting the right kind of people and building a quality list of subscribers who regularly engage with your business.
Make It Easy to Sign Up for Your Emails
Make sure to display your signup form in proper place. It may be top of websites in the navigation bar or in the footer. Also you can place this email form/ signup form at the end of articles and blog posts or also you can use popups because Popups are a great way to get in front of your users and encourage them to subscribe.
Make Your Submit Button Interact with the User
Make Your Submit Button attractive. To do this, Give a button color change hover effect to this button so it interact the customers and increase the conversion rate.
Offer a special "Email subscribers only"
Another great way to generate more opt-ins is to give subscribers exclusive access to some kind of offering, whether it's free content, coupons, resources, etc.
Promote Your Email Newsletter on Social Media
You can create a form within the mail client, sync it up to Facebook, and it will create a tab on your Facebook page. People who like your page can subscribe on the spot, without having to visit your website.
Instant offer for first-time subscribers
Try offering an instant incentive for becoming first newsletter subscriber. Most of the e-commerce sites might offer a 20% off discount voucher.
Add email signup option to your checkout page
If you have an e-commerce site then add an "opt-in for our newsletter" checkbox in your checkout page. Remind them about the coupons.
Remind visitors of subscriber-only benefits
On your site, remind visitors that newsletter subscribers get exclusive benefits, like your latest and greatest white papers, or free download kits.
Add social proof to build trust
Social proof is very important, especially in an age when people don't like giving out their contact information. There are several forms of social proof like numbers (e.g. "Join 50,000 other subscribers…), Logos of brands you've worked with or Reviews from satisfied customers. You can just add it on some page because some types of social proof increase conversion rate also you can visit 9 simple ways to Manage Bounce Rate of your eCommerce site.
Implement this 8 Effective Ways to Get More Email Subscribers so you can boost your sales and keep your business profitable for years to come. If you have any query than fell free to contact us. We are happy to solve your query. What other effective methods have you found for collecting email subscribers? Let us know in the comments!