top 7 best backup plugins for wordpress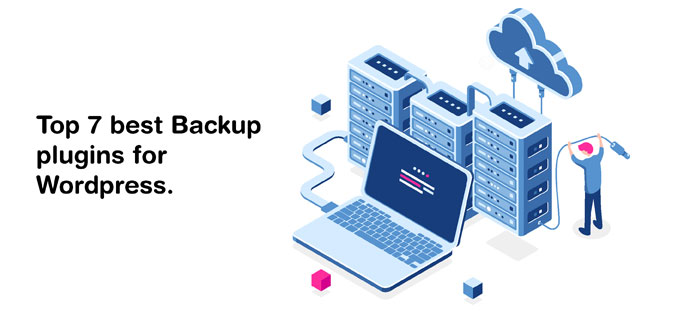 Regular backup of website can be the best thing to do. Backup plugins for WordPress help you every step of the way. These backups help you when your website gets corrupted or your site gets hacked during coding.
Many WordPress free and paid backup plugin exist , and most of them are quite easy to use.
In this article, I am going to tell you about the 7 best backup plugins for WordPress.
So let's start…
Best Backup Plugin for WordPress
There are many WordPress hosting companies that offer backup features, but this is your own responsibility. Don't just rely on your hosting provider for backup.
BackupBuddy is the most popular Premium WordPress backup plugin. This allows you to easily schedule daily, weekly, or monthly backups. It can send backup files automatically to Dropbox, Amazon S3, Rackspace Cloud, FTP, Stash (their cloud service), and even send emails.
If you use its Stash service, you will also have the ability to do real-time backups.
The biggest advantage of using BackupBuddy is that it is not a subscription-based service, so there is no monthly fee. It also provides you 1GB cloud storage.
You can use BackupBuddy to duplicate, migrate and restore the website.
UpdraftPlus is a free WordPress backup and restore plugin. This allows you to do a full backup of your WordPress site and store it on the cloud or download it to your computer.
Scheduled backups are also available in this plugin. Also you can backup your WordPress website whenever you want. It can automatically upload your website backup to Dropbox, Google Drive, S3, Rackspace, FTP, SFTP, email, and many other cloud storage services.
There is also a premium version of UpdraftPlus. Which comes with migrating or clone site, database search and replace, and also has other multisite support services.
Pros of UpdraftPlus
Automatic backup will be taken
Easy to Use for beginners
Backup Options are available
Support to upload multiple locations like dropbox
Restoration from multiple sources
BackWPup is a free plugin that allows you to create a full backup of a website and store it in the cloud (Dropbox, Amazon S3, Rackspace etc.), FTP, email or on your computer.
It is very easy to use and it allows you to schedule automatic backups according to the update frequency of your site.
Restore your WordPress site by backup is also very easy. Its BackWPup Pro version is also available which comes with some special features.
BackupWordPress is one of the best backup plugins for wordpress with automatic schedule support. This allows you to create separate schedules to backup your files and WordPress database. But its free version does not allow backups to be stored in cloud storage.
If you want to store your backup on Dropbox, Google Drive, FTP, etc., then you have to buy a premium extension for this. Extensions are available for each service, and you can buy what you need or buy a full bundle.
Pros of BackUpWordPress
Beginners can easily use it
This plugin is free for use.
Fastest Backups
Cons of BackUpWordPress
Paid version must be taken for auto backups.
Duplicator is a very popular WordPress plugin used to migrate WordPress sites. However it also has backup facilities.
It does not allow Automated scheduled backups to be created.
Pros of Duplicator
Backup plugin is free to use
Easy to use WordPres Migration Tool
Cons of Duplicator
paid version must be taken for auto backups.
To use this you should have wordpress knowledge
Only Manual backups with free plugin
With over 400,000 active installs, WP-DB-Backup is one of the most popular WordPress backup plugin. The problem is that it only backs up the WordPress database.
This means that you will have to manually backup your media files. If you do not update the site very often or do not upload images, you can use WP-DB-backup to do a WordPress website backup.
WP-DB-Backup makes it easy to create database backups, schedule automated backups, and restore database.
VaultPress is developed by Matt Mullenweg (WordPress co-founder) and his team Automattic. To use VaultPress you will need a JetPack subscription plan which comes with different pricing plans.
It offers Automated real-time cloud backup starting at $ 3.50 / Month. VaultPress also offers security scans, along with WordPress Backup and restore.
There are some downsides of using VaultPress. First, you need to subscribe to Jetpack, take an account on WordPress.com, and then install the Jetpack plugin on your site.
However if you run a medium size website and hate paying monthly, I would recommend you to use the BackupBuddy and UpdraftPlus plugin.
Note: Do not store your backup on the Hosting Server on which your website is located.
I would recommend that you store your WordPress backup on third-party storage such as Dropbox, Amazon S3, Google Drive , etc.
If you are not backing up your site, then you should choose one of these 7 Best WordPress backup plugin and start using it immediately.
Which Backup Plugins for WordPress would you like to use on your site ? Please tell in the comment!
If this article has proved helpful to you, then do not forget to share it!