Hints Your WordPress Site is Hacked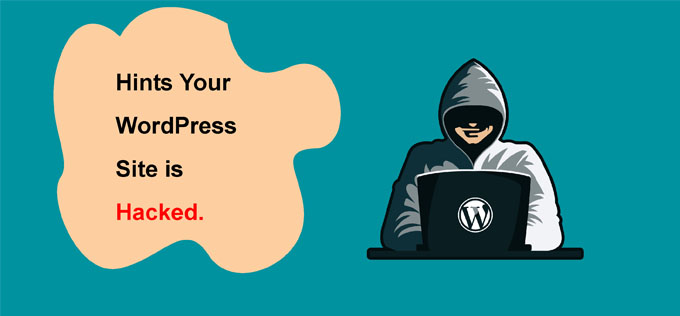 Do many bloggers ask what are the sign's when - WordPress site hacked or not? Some common hints for this can help you find out, your WordPress site hacked
Today in this article, I will tell you about some common signs that will help you to know that your WordPress site hacked or not.
So let's start…
A less traffic suddenly in website
If the traffic on your website less this could be a sign that your WordPress site hacked.
Another reason for the less traffic may be Google's safe browsing. When users come to your website, they will see warnings in them. As a result, your website traffic can drop gradually.
Add Bad Link to Your Website
If there any bad links on your website it will allow hackers to hack your website and if a hacker found any bugs on your website then hackers put bad links on your website at any place.
Your website homepage to be changed or removed
Most hackers do not do this because they want to stay on your website for a long time.
However, some hackers spoil the homepage of your website so that they can tell that your WordPress site hacked. Such hackers usually add your message to your homepage.
If you do not log-in to your WordPress
If you are not able to log-in to your WordPress admin panel or c panel then it is obvious that either you lost your password or your WordPress site is hacked. This occurs when you log in directly through any links or you do not change your admin URL then your website can be hacked by hackers.
Having Suspicious User Accounts in Your WordPress Site
If you have enabled user registration on your site, and you are not using any spam registration protection, then you can select the spam user and delete them.
If you don't do this, your WordPress site hacked at any time.
If your website has Unknown Files and Scripts on Server
If you are using any type of malware or virus detector plugin then that plugin informs you about any virus or malware or any kind of script that does not need for you.
After deleting that script even not sure that it will be removed it is just the same as WordPress files name so it is difficult to found that kind of script.
Your website should be Slow or Unresponsive
Sometimes bad users or hackers send too many requests to your server and try to Slow or Unresponsive your website.
Cleaning a WordPress site hacked is a very hard task, so you should not forget about securing your website.
If this article has proved helpful for you, then don't forget to share it!