5 Powerful WooCommerce Tips to Boost Sales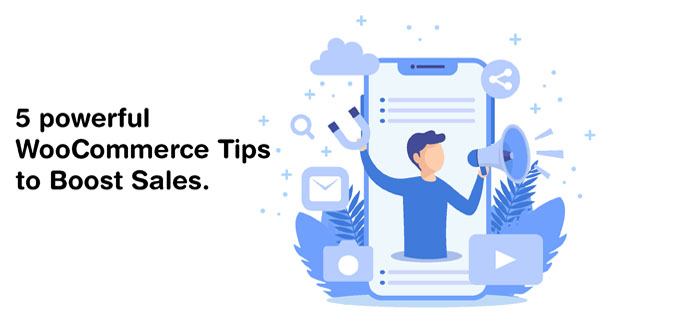 You get 5 Powerful WooCommerce store Tips to Boost Sales below :
1. Personalize the experience
Every customer who comes to your WooCommerce store wants more personalized experience from your website.
Some of your customers want to get more attention from your side and they need all your new products or articles newsletter.
So if any customer gets all this personalized experience then your WooCommerce store will get more profits.
Provide personalized content
You all know that content is the king.so if your website's content is attractive and everyone likes your content then it is sure that your WooCommerce store gets more profits.
If yourWooCommerce store has great content then many peoples like your store and also they share with others and if you are lucky then your welcomers can go viral.
Use the latest technology
If your WooCommerce store has all types of new technology or plugins available in your WooCommerce store then it has more chances that your WooCommerce store will rank or become more popular among customers.
Maintain relationships with customers
You need to keep a relationship with your customers alive and healthy. This is essential for a successful personalization strategy. If you decide to ignore customers who do not respond to your messages will not help your company grow or get more orders.
When we are talking about privatization and relationships, here's what you can do to improve them:
1. Contact your customers to see if they need help
2. Send them a personal message.
3. Offer them special pricing packages.
4. Offers them discounts and loyalty benefits.
5. Reply to their messages quickly.
6. Keep the tone of the messages and conversations personal.
7. Provide complimentary promotions.
2. Provide a discount
If you provide discounts or offers in your WooCommerce store then there are more chances that your website will be famous in all the customers who are interested in buying things from your store.
Everyone goes at that place where they get all types of discounts and offers in pricing.20-30% discounts are attractive to the customers and they will eye-catcher also.
3. Cross-sell and Upsell
It is one of the best strategies applied in the e-commerce filed also use by amazon.Amazon also uses upselling and cross-selling products.
With upselling, you can sell a more expensive version of a product in place of the one the customer originally intended to buy. Upselling is the reason why you'll buy the sedan instead of the hatchback, and why you'll go on a 3-day trip to Milan instead of 7-day excursion in your own country.
4. Send regular newspapers
Great email marketing for your WooCommerce store has the power to build relationships with your customers by sending them relevant email messages with useful info at the right time, based on the buyer journey stage that they're at.
5. PPC Remarketing
Here are some tips to get a better position for your WooCommerce ads on search engines:
Make sure your site performs perfectly on mobile:
A / B test your CTA, title and landing page structure.
Set up conversion tracking to measure your campaigns and measure results.
Make the checkout process simple and lossless. You guys don't want shopping to leave when the process gets complicated.
Keyword Research for SEM:
Bidding for broad terms may not achieve the desired results because it may not bring high-quality traffic to your site.
Bid on search terms that attract the customer's intent.
Consider that your biggest competitor is actively bidding to expand your keyword range.
Focus on negative keywords. If you don't know how to use them, you can prevent your ads from ever appearing in the right search results and your entire eCommerce campaign may go waste.
Copy an appealing ad:
Pay attention to your CTA. This is what prompts the user to click on your WooCommerce link. There is a clear, profit-focused CTA that provokes a sense of urgency. Above all, it should be related to the end goal of the user.
Another thing to keep in mind while writing an ad copy is to focus on the qualities that make your products stand out from the rest. This can be anything from the price point to the quality or rarity of your products.
Getting around
I hope you will get all the information regarding WooCommerce and if you want to hire any company regarding WooCommerce then we are here to do all your work with our team's great experience and hard work. Lathiya solutions make any project related to WooCommerce development , SEO, WordPress development, website design and development, and many others.